About us
Infabbrica was born in 2010 in the furniture manufacturing district of Pesaro, with a simple idea: connecting consumers directly with the craftsmen and the manufacturing factories.
Lorenzo Tamburini, the owner, sensed the potential of the Web for online sales, and gave life to the project of Infabbrica.
From the initial concept comes the name "Infabbrica", which conveys the link between the factory and the purchaser, with our online showcase as a common denominator.
Without the limitations of the physical store, and without resorting to intermediaries, Infabbrica.com is the direct connection between the producer and the consumer, offering a unique and sophisticated design with affordable prices.
INFABBRICA: design from factory to you.
Our Staff
Lorenzo Tamburini
Owner
He enjoys traveling and seeking for Italian factories and artisans to meet and get to know the various manufacturing realities and have the opportunity to touch the final high-quality products, in order to sell them with a competitive price.
Orestia Prifti
Pre-sale customer support
Information consultant at Infabbrica; she will efficiently and carefully help you through your decision of the high-quality and design products suitable for your needs and preferences.
Valentina Fiorentini
Post-sale customer support
Customer support supervisor; she will patiently give you the information you need to clear your doubts from the beginning to the end of the purchase and even after it.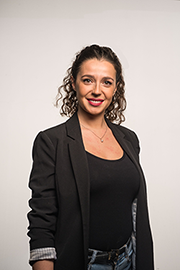 Ilaria Bernabei
Administration
Administration supervisor at Infabbrica, she is keen on interior design; she is very cooperative and helpful in her way of helping and supporting customers. Her taste for beauty is a plus and will help you choose the best product.
In the sector of furniture, taste and details are extremely significant: that's why our Staff performs a careful and detailed research work to find the best items to satisfy all tastes and needs.
Customers who turn to Infabbrica are followed throughout all the purchase path. Buying online means you cannot actually see what you buy: thanks to our passion for design and to experience gained over the years, we are able to communicate our products' story and the care with which they are created, to make you fall in love with them just as we are.
Since 2012, Infabbrica has leaned in the European market. Today our online showcase can be easily consulted in the original language for each of the main countries in which we sell, above all France, Germany, Switzerland and Austria.
INFABBRICA makes quality attainable, because it offers to a larger public the possibility of being surrounded by beautiful things.